Hours of fun and off a screen!!
It has been so wonderful watching my kids - we (adults and kids) have been doing lots of bright rainbow colors, and it is such a good memento for them!
Nothing best than a family-time colouring together. Once you've started, you can't stop!
Definitely the best family activity we have done so far! We have now lovely memories of us all colouring around our dining table. I will frame it so we keep our poster forever!
For kids who visited us from abroad, and also for us, just for our own family fun. Also as a farewell gift (a wonderful souvenir), or for birthdays. I bought a few for adults too!
THE SINGAPORE GIFT
Looking for something unique for a Christmas present or a perfect souvenir for a farewell gift?
SHOP NOW
Discover Singapore
The Scribolo poster is a great artistic activity for children who will recognise the Lion's City iconic locations, as well as a great tool for discussion on Singapore and its diversity.
Be it only for calming the kids down, keeping them busy (great for a birthday party!) or learning about Singapore's geography, landmarks, and history - It's a super great activity!
MARINA BAY SANDS
THE ZOO
EAST COAST
FOOD COURTS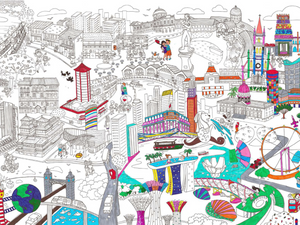 Giant colouring poster of Singapore
Sale price Price $35.00 Regular price